"Vanya and Sonia and Masha and Spike"
A comedy by Christopher Durang
Presented by Borelians Community Theatre
at Town Hall 1873 Centre for the Performing Arts
February 16 – 25, 2017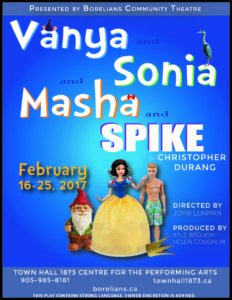 A middle-aged brother and sister, who opted to stay  home to care for their aging parents instead of pursuing careers, are visited by their worldly actress sister and her 20 year-old, (sometimes fully clothed) boy-toy. Through hilarious bickering and pointed insults, the siblings rehash hard-feelings and paranoid insecurities while deciding the fate of their parent's cherry orchard.  This hilariously wild comedy written by one of America's premier playwrights ran for several years on Broadway and won the 2013 Tony Award for Best Play.  It has been described a "Chekhov in a blender," and is unlike any play you have ever seen before.
Please be advised that this play contains sarcasm, voodoo and strong language.
CAST
Cassandra  ……………… Alexandra Hines
Vanya …………………….. Colin Murphy
Sonia ……………………..  Cheryl Van Vliet
Masha ……………………  Joanne Norman
Spike …………………….. Kyle Dickie
Nina ……………………… Justine Dickie
PRODUCTION TEAM
Directed by: John Lunman
Produced by: Helen Coughlin & Kyle Brough
Stage Manager: Liz  Auston
Set Designed by:  Lorenz Workmeiester
Costumes Designed by:  Kim Blanusa
Properties and Set Decor by: Helen Coughlin
Lighting Designed by:  Andre Grander
Sound Designed by:  Kyle Brough