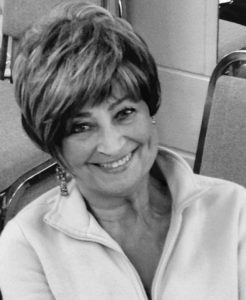 It is with great sadness that the Borelians mourn the loss of a long-time member of our theatre family, Linda Sutherland, on February 10th, 2018, in her sleep, after several courageous years of coping with cancer.
Linda graced the backstage of Town Hall 1873 on countless productions over several decades with her incredible skills as a make-up artist and hairstylist.  For many of us, her gentle spirit, giving nature, and friendly smile were a part of our nightly routine before stepping on stage.   Linda's sense of humour and boisterous laugh brought warmth to the dressing room and an ease to our nerves. Her superb sense of fashion and enviable style always garnered admiration.  Her kindness and support was felt by everyone.
Our thoughts are with Linda's family, friends, and loved ones during this time of loss.
A Celebration of life will be held in memory of Linda on Sunday March 11th, 2018, from 12pm to 3pm at Mount Lawn Funeral Home,  21 Gerard Road in Whitby.
For more information, please follow this Link:  Celebration of Life for Linda Sutherland