"August: Osage County"
by Tracy Letts
Presented by Borelians Community Theatre
at Town Hall 1873 Centre for the Performing Arts
October 13-22, 2016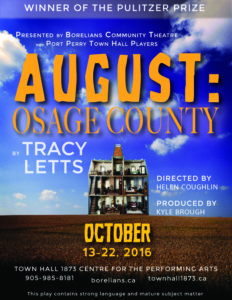 When the large Weston family reunites after their father unexpectedly disappears, their Oklahoma homestead explodes in a maelstrom of repressed truths and unsettling secrets. A vitriolic matriarch, a toxic family history, generations of scandal and backstabbing, all contribute to making this a heart-pounding and compulsively watchable piece of theatre.  At once sensationally entertaining and deeply moving, this Pulitzer Prize and Tony award-winning play was also adapted into an Academy Award nominated film starring Meryl Streep and Julia Roberts. Join the Borelians for their once-in-a-lifetime undertaking of this immensely ambitious and challenging modern masterpiece.
Warning: mature subject matter, portrayals of drug-use, and strong language
CAST
Howard Linscott ….. as Beverly Weston
Ruth Smith ….. as Violet Weston
Annette Stokes-Harris ….. as Barbara Fordham
Michael Serres ….. as Bill Fordham
Justine Dickie ….. as Jean Fordham
Lanie Anderson ….. as Ivy Weston
Carolyn Goff ….. as Karen Weston
Marlo Alcock ….. as Mattie Fay Aiken
Lyle Corrigan ….. as Charlie Aiken
Chris Gaudet ….. as Little Charles Aiken
Isabelle Blanusa ….. as Johnna Monevata
Colin Murphy ….. as Steve Heidebrecht
Lorenz Werkmeister ….. as Sheriff Deon Gilbeau
PRODUCTION TEAM
Produced by: Kyle Brough
Directed by: Helen Coughlin
Stage Manager A/D: Kyle Dickie
Set Design: Bryan Coughlin
Set Decoration and Props: Jan Taylor
Lighting Design: Joanne Norman
Sound Design: Michael Serres
Costume Design: Teresa Hodgson & Kim Blanusa
Follow this show on Facebook for photos, videos, contests, and up-to-the-minute information about what's going on with cast and crew!