"All Together Now"
A One Act Play by Graeme Powell
Presented as part of DURHAM MINIFEST
at Town Hall 1873 Centre for the Performing Arts
August 5th at 7pm, 2016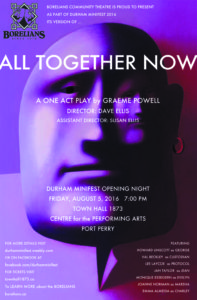 This summer, The Borelians will be taking part in the DURHAM MINIFEST, a one-act theatre festival with a special twist!!
Six local theatre groups will each get a chance to put their unique stamp on an original one-act play written by Scugog playwright (and fellow Borelian), Graeme Powell.
One play + six groups = an endless array of possibilities.
Join the Borelians on opening night of the festival, August 5th and watch us push our creativity to the limit!
**********CAST*********
Howard Linscott …………………… GEORGE
Val Beckley …………………………. CUSTODIAN
Lee Laycoe ………………….. PROTOCOL
Jan Taylor ……………………. JEAN
Monique Essegern ……….. EVELYN
Joanne Norman …………… MARSHA
Emma Almeida …………….. CHARLEY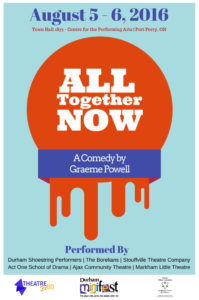 Directed by David Ellis
Assistant Director : Susan Ellis
For more information about Durham Minifest, please visit:
http://durhamminifest.weebly.com/
Purchase tickets now at the Town Hall 1873 box office:
https://app.arts-people.com/index.php?ticketing=townh