a comedy by Peter Shaffer
presented by Borelians Community Theatre
at Town Hall 1873 Centre for the Performing Arts
October 12-21, 2017
Directed by Joanne Norman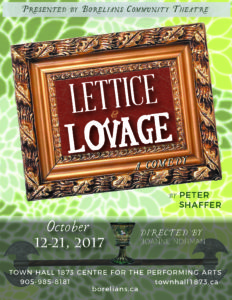 From the playwright who brought us Equus and Amadeus, comes an uproarious comedy that can only be described as, "Extremely British"!  Originally written for the incomparable Maggie Smith (who won the Tony award for her performance in 1990), this hilarious satire is centred around a flamboyant countryside tour guide who loves to dramatically embellish upon British history.  However, her life is forever changed in an instant when she meets her surprising counterpart: a fact-obsessed, London-based official who is in desperate need of distraction.
 CAST
LETTICE DOUFFET ……………Alexandra Hines
LOTTIE SCHOEN ……………… Amy Caughlin
MISS FRAMER …………………. Lee Laycoe
MR. BARDOLPH ………………. Howard Linscott
SURLY MAN …………………….. Lorenz Workmeister
PRODUCTION TEAM
Directed by: Joanne Norman
Produced by: Helen Coughlin and Kyle Brough
Stage Manager:Brenda Dejong
Set Decoration and Props: Jan Taylor, Helen Coughlin, and Annette Stokes
Set Design: Shelley Martin
Sound Design: Kyle Brough
Costume Design: Alexandra Hines
Lighting Design: JoanneNorman
Performance Dates
Thursday October 12th, 2017 at 8pm
Friday October 13th, 2017 at 8pm **
Saturday October 14th, 2017 at 2pm
Saturday October 14th, 2017 at 8pm
Thursday October 19th, 2017 at 8pm
Friday October 20th, 2017 at 8pm
Saturday October 21st, 2017 at 2pm
Saturday October 21st  2017 at 8pm
** Friday October 13th is also the show's GALA PREMIER CELEBRATION.  Before the show, starting at 7pm, there will be free wine; free desserts, and after the show you are invited to meet the cast and crew.  This is a great opportunity to experience local theatre like never before!