The Borelians: Scugog's Original Community Theatre!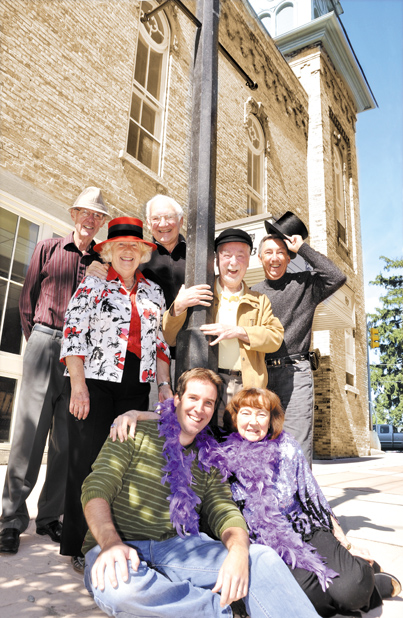 On stage since 1971, the Borelians Community Theatre was founded by a group of teachers with a commitment to staging quality amateur theatre by presenting Canadian theatre work and contemporary classics. The name Borelians derives from the village of Borelia, now a part of Port Perry. The Borelians' first play, You Can't Take it With You by Moss Hart and George S. Kaufman, was performed at the Port Perry High School in May of 1971. Today, the volunteer Board of the Borelians, remains committed to excellence in theatre, producing classic and contemporary works that challenge, educate and, above all, entertain their audiences.
Members of ACT-CO (Association of Community Theatres – Central Region) since 1983, the Borelians have regularly participated in the annual ACT-CO Theatre Festival, receiving numerous THEA Awards and nominations over the years. These awards recognize the impressive talent and commitment of the group's members in all areas of production and include Best Play awards for Nurse Jane Goes To Hawaii (1984), Nobody Loves a Dragon (1988), Night of January Sixteenth ( 1993), Ten Lost Years (1998), All My Sons (2000), Hay Fever (2006) and most recently, The Drawer Boy (2014). Both, "Nobody Loves A Dragon" and "Ten Lost Years" picked up further top honours, winning the Elsie for Outstanding Production at the provincial level at the Theatre Ontario Festival.
Producing award-winning theatre requires the talents and energies of many individuals and the Borelians always welcome new members. Anyone interested in any or all aspects of theatre production may join the group, which provides regular workshop opportunities in acting and technical skills. In 2007, the Borelians launched understudy and apprentice programs to encourage the development of actors, stage crew, technicians and designers. Each year the Borelians presents bursaries to local high schools, dedicated to post secondary theatre/radio-television studies.
The Borelians also support the development of new audiences for the long-term benefit of community theatre by offering a variety of theatre experiences to individuals, groups and schools. Dinner theatre, weekday school matinees and participation in eyeGO to the Arts (a not-for-profit program which provides affordable theatre and concert tickets to high school students) are only some of the ways the Borelians strive to bring the best in community theatre to as many people as possible.
We think that the theatre is just as important today as it was 2000 years ago. Movies, video games, etc., provide entertainment on a huge, big-budget scale. And sure, at the theatre you would be hard-pressed to find spaceships, or car chases, or big beautiful beasties stomping around wreaking havoc. But the theatre is one of the few places left to us where the most important thing is IMAGINATION. With a few actors, a bit of furniture and some paint, we can take you any number of places – a magical forest in ancient Greece (A Midsummer Night's Dream); New York City in the 1940s (Lost in Yonkers); or even go as far as Neverland (Peter Pan); or down the rabbit hole with Alice. We love to play around. We love to make you laugh; to make you cry; to make you feel as if you've been on an incredible journey. This is what theatre is about.
You can always watch a movie, or a television show, but a play is unique – it exists for a brief time before disappearing, never to be seen again. We would love you to come out and share these experiences with us. We can always play around, but in the end, it is the audience that makes the play. We hope to see you soon!